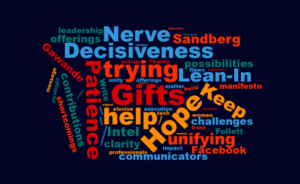 In this season of gift-giving, here are my wishful offerings to those who, for various reasons, might need them now:
For the "Lean-In" followers of Sheryl Sandberg: Persistence. Don't let your understandable disillusionment with the Facebook executive diminish the useful power of her original message. Facebook's loose-privacy maneuvering and posturing have been shameful, but it's been sad to see so many observers jump to the view that Sandberg's "Lean-In" is fundamentally flawed advice. Of course there wasn't enough nuance or understanding of all women's challenges in the soundbite version of Sandberg's manifesto for women and leadership. Manifestos (and their authors) are seldom balanced; their power lies in the skewed weight of their possibilities. For me, the enduring message of Sandberg for my granddaughters (and for that matter, my grandson) is "don't presume the answer is no"—and it's not diluted by Sandberg's own shortcomings. (For a refreshing refresher of the original message before the hubris, go back and listen to Sandberg's keynote at the 2011 Grace Hopper Celebration of Women in Computing.)
For the Intel communications team: Compliments. In the storied company's 50th-anniversary year, you dealt with the embarrassing resignation of a CEO and still credibly and colorfully conveyed the tech and cultural contributions of one of the most respected companies in business history.
For communications professionals hungry for strategic impact: Decisiveness. Establish a point of view and a recommendation for action based on all available information and insights. Then be ready to adjust it (or abandon it) when the insights change. This saves time and gets to clarity faster—even if clarity doesn't arrive till Plan B or C. And for communications leaders frustrated that their influence is diminished because they don't (yet) report directly to the CEO: build a relationship of mutual trust and candid advice from wherever you sit. Advice can be ignored no matter how close, or embraced no matter how distant.
For eager watchers (like me) of Atul Gawande's plans for the Amazon/Berkshire/Chase healthcare venture: Patience. It's an exciting prospect: a healthcare innovation engine led by a brilliant but reflective writer who has offered systematic and candid assessments of the wonders and flaws of medicine. If we extrapolate from the depth and care of Gawande's writings, we can assume that the execution steps of the new organization won't be rushed—and will benefit from the foundational discipline of, say, a checklist. (We can spend our waiting-room time revisiting Gawande's 2015 New Yorker piece, Health Care's Price Conundrum.)
For organizational communicators of all kinds, striving and struggling to get it right: Nerve. Write the draft—of the punchline or the white paper, of the tweet or the video script, of the memo or the presentation—and expose it to scrutiny (even if it's just your own). Make it better—and then be grateful for the deadline that forces you to offer it to the world. And as we pursue engagement, or alignment, or connection—and find them so elusive—let us be consoled and energized by the reminder that the project is, by definition, endless. As Mary Parker Follett told us about organizational or state unity: "The most important thing to remember about unity is—that there is no such thing. There is only unifying. You cannot get unity and expect it to last a day — or five minutes." And everyone, she added, should be engaged in the work of unifying. (Thanks to Julie Huffaker for the recent introduction to the wonders of Follett.)
For all those souls, in Indonesia or Yemen or South Sudan, or Puerto Rico or Appalachia, for whom the challenges above would be high-class problems, and gifts in themselves: Hope, and help. Two good places for the rest of us to start are Nicholas Kristof's yearly offering and Peter Singer's The Life You Can Save.
For all of us: Keep trying.